Mintopoly! Guide
---
Mintopoly! is still in development and the details below are subject to change. For the latest updates on new features, see our
official roadmap
.
Mintopoly! is a free-to-play idle game... a crypto airdrop platform... and a collectible NFT art project all in one.
The Idle Game – Every 7 days, a new round of the Mintopoly! idle game begins where all players compete in our blockchain simulator to make the most Mintopoly! coins (a fictitious in-game currency). At the end of the round, the player with the highest net worth wins a rare NFT Mintopoly! card (more on those in a minute). Rounds typically include other unique challenges and giveaways to earn NFT cards and crypto airdrops.
The Crypto Airdrop – The top players (typically 200+) in each weekly round (for the first 50+ weeks) receive an airdrop of the 'Mintopoly! Money' cryptocurrency in proportion to their share of all earnings in the game. The higher you rank, the more you earn. This is an all-new take on an airdrop – distributing the currency free of charge to those who play the game. [Later this year you'll also be able to use this currency to directly mint additional NFT cards.]
NFT Mintopoly Cards – We're minting a limited edition of 12,000 collectable NFT 'Mintopoly! cards' that each provide unique boosts inside the game to help you rank higher. These will be minted and dropped in small batches over the first 12+ months of Mintopoly! – and many will be given away as prizes to players.
Mintopoly! gameplay guide
---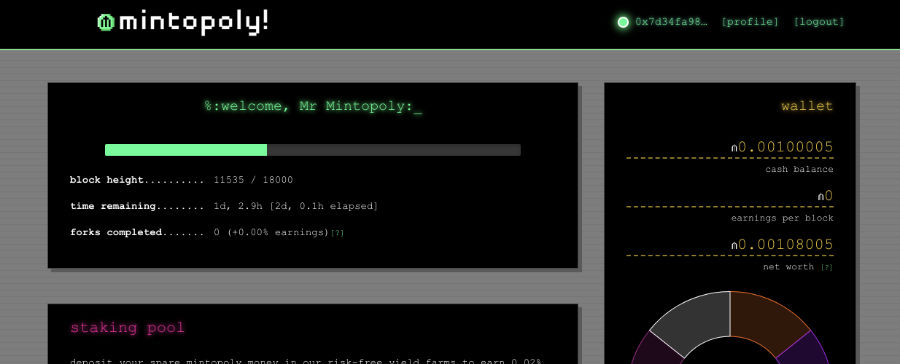 You've just been given .00000005 Mintopoly! coins, enough for one new mining rig. Activate it and wait for the block rewards to start trickling in... from this humble start, can you build an empire of smart contracts, exchanges, trading bots, and more to top the charts and become the ultimate 'mintopolist'?!
Mintopoly! is a simulated blockchain game where you compete on the global leaderboard to earn the most Mintopoly! Coins* before the round ends. Here's a quick overview of how the game works:
Mintopoly! is completely free to play. All you need to get started is an ETH address and a browser-based wallet to login (ideally MetaMask). MetaMask is the most popular web wallet, used by CryptoKitties and thousands of other applications. It is available as a chrome extension (our recommended way to play) as well as iOS and Android apps. Because you login securely with your ETH address, you'll never need a username or password.
Each game (a round) is played by all users in realtime. Rounds are controlled by "blocks" and each block takes 15 seconds to pass.
The object of the game is to achieve the highest net worth – which includes cash on hand + the purchase price of all investments + staking balance. To grow your net worth, use your mining rewards to unlock and purchase ever-higher tiers of investments.
Each round has real prizes! The outright winner of each of the first 50 rounds receives a rare "mintopolist" NFT card transferred to their account which provides a 5% boost to all earnings inside the game. Plus, the top (approx. 200) players receive an airdrop of the real Mintopoly! Money crypto (see below).
*Mintopoly! Money is a real Ethereum-based cryptocurrency (see below) earned by playing Mintopoly!... Mintopoly! Coins are the fictitious currency used within the game.
To get started, head over to mintopoly.io and login with MetaMask to access your dashboard.
You should also be aware of two unique gameplay factors that add more complexity & strategy to the game:
Staking Pool
The staking pool is a unique feature that allows you to park your spare cash so that it can earn compound interest on every block. The interest might start out slow, but the power of compounding will quickly double! quadruple! octuple! your investment. It's a great way to store cash if you'll be AFK for a while.
Hard Forking
Hard forking is a "prestige" feature in Mintopoly!. It completely reboots your game (resetting your cash, net worth, and all investments back to 0). In return, the fork boosts the earnings of all investment tiers for the rest of that round.
The amount of earnings boost received is tied to your net worth when you fork. For example, forking when you have ₼50 of net worth might increase earnings by 20%, but forking with ₼100 might give increase by 40%. It often pays to wait longer. This percentage gain is shown on the forking button.
You can fork as often as you'd like and the new bonus % adds on top of of existing forking bonuses, but be careful – each time you fork, it dramatically reduces the percentage boost of the next fork. Use them wisely!
Mintopoly! Cards
---

Mintopoly! Cards are blockchain-based NFTs (technically, ERC1155 "Semi-Fungible" Tokens) at the heart of Mintopoly!.
Each card provides unique gameplay boosts – increasing earnings or decreasing cost of a certain investment, providing extra starting capital, providing extra earnings per block, even boosting total net worth.
Many cards also have a crucial second benefit – they reduce the cost of unlocking the investment tier they represent by 25% (40% for founder's cards) – providing crucial early access to these higher-level investments.
Most cards will be steadily minted in small editions of 20-30 each, but written into the smart contract are constraints that guarantee two facts: i) no card can have an edition size greater than 30 and ii) there can never be more than 12,000 of these base Mintopoly! cards minted in total – making them scarce and collectible.
Learn about each type of card in our Mintopoly! card guide »
The 'Mintopoly! money' ERC-20 token
---

[Note: In September 2021 we introduced the layer 2 vault system for the MM token on the Polygon network. To view your balances and learn how this vault system works, see the official Mintopoly! Banker page.]
'Mintopoly! Money' is a true ERC-20 token (view on etherscan) that may be held, traded, or exchanged just like any Ethereum-based cryptocurrency.
This coin is distributed exclusively via airdrops to players of the Mintopoly! game. For the first 50 weekly rounds, 1 million tokens will be distributed amongst the top finishers (typically the top 250)
We've created a GitHub repo with the full distribution algorithm, airdrop tallies for each round, and transaction links for each distribution: https://github.com/labeldot/mintopolyAirdrop
The token has a maximum supply of 100 million. The above schedule will distribute 50 million tokens over the first year. The remaining tokens will be distributed to players after the first year, but at a slower rate TBD.
What can you DO with these tokens? In addition to holding or trading them like any crypto, they also have a crucial value within the game itself...
Later this year, a second class of NFT cards will be introduced that provide special benefits (like access to even higher-tier investments within the game). The great thing about these cards is that they can only be purchased with the Mintopoly! Money currency earned in the game – making them both free to earn, but also very rare, powerful, and potentially valuable. There will never be more than 4,000 of these second-tier cards, bringing the total supply of all Mintopoly! cards to just 16,000 for all players, forever.
---