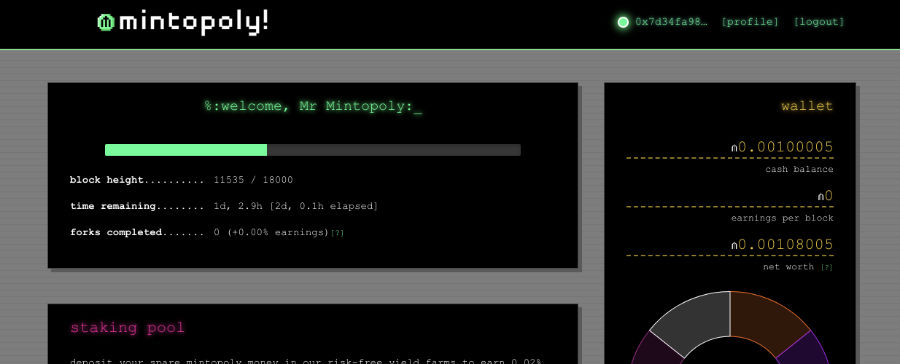 Mintopoly is a simulated blockchain game where you compete on the global leaderboard to earn the most Coins before the round ends. You begin by purchasing one mining rig, and reinvesting its earnings into an empire of smart contracts, trading bots, and even your own exchanges! Here's a quick overview of how the game works:
What You Need to Play
Mintopoly! is completely free to play. All you need to get started is an ETH address and a browser-based wallet to login (ideally MetaMask). MetaMask is the most popular web wallet, used by CryptoKitties and thousands of other applications. It is available as a chrome extension (our recommended way to play) as well as iOS and Android apps. Because you login securely with your ETH address, you'll never need to set a username or password on Mintopoly [but always be sure to write down and save your wallet's seed phrase - your account cannot be recovered if you lose this.].
Gameplay Basics
Each game (a round) is played by all users in realtime. Rounds are controlled by "blocks" and each block takes 15 seconds to pass. Games usually have 20,000 to 30,000+ blocks (5-6 days).
The object of the game is to achieve the highest net worth – which includes cash on hand + the purchase price of all investments + staking balance. To grow your net worth, use your mining rewards to unlock and purchase ever-higher tiers of investments.
Each tier of investments increases in price and earnings. You'll start with mining rigs, but quickly move onto validator nodes, oracles, smart contracts and more. Each new tier must be unlocked at a specified price before items can be purchased.
Each round has real prizes! The outright winner of each of the first 50 rounds receives a rare "mintopolist" NFT card transferred to their account which provides a 5% boost to all earnings inside the game. Plus, the top (approx. 200) players receive an airdrop of the real Mintopoly! Money crypto (see below).
NOTE: Mintopoly Money is a real Ethereum-based cryptocurrency (see below) earned by playing Mintopoly. The Coins in game are the fictitious currency used exclusively within the game and reset each round.
---
You should also be aware of 3 unique gameplay factors that add more complexity & strategy to the game:
Staking Pool
The staking pool is a unique feature that allows you to park your spare cash so that it can earn compound interest on every block. The interest might start out slow, but the power of compounding will quickly double! quadruple! octuple! your investment. It's an extremely powerful way to grow your net worth later in the round.
Hard Forking
Hard forking is a "prestige" feature in Mintopoly that multiplies your earnings. It completely reboots your game (resetting your cash, net worth, and all investments back to 0). In return, the fork boosts the earnings of all investments for the rest of that round without raising the costs.
The amount of earnings boost received is tied to your net worth when you fork. For example, if forking when you have ₼1000 in net worth gives you a 40% boost, waiting until you have ₼2000 would boost earnings by 80%. It often pays to wait longer. Finding the optimal time to fork is a major key to victory among the top players.
You can fork as often as you'd like and the new bonus % adds on top of of existing forking bonuses, but be careful – each time you fork, it dramatically reduces the percentage boost of the next fork (i.e. if the first fork provides an earnings boost of netWorth * 4%, the next one may only provide netWorth * 0.4%) - use them wisely!
Mintopoly News Network
The most recent addition to the game is the Mintopoly News Network. During the round, multiple "news events" will happen within the Mintoverse that may affect some or all players. Events may cause you to gain or lose a portion of your staking balance or gain extra cash. They may temporarily alter the cost or earnings of one or more types of investments.
When an event occurs, the MNN will give you an alert within the game to explain what happened (if you were affected by the event). All past events can also be seen in the sidebar newsfeed. The Mintoverse is a dynamic place – always be ready to capitalize on the latest news!